Preparing Outdoor Furniture for the Cold Seasons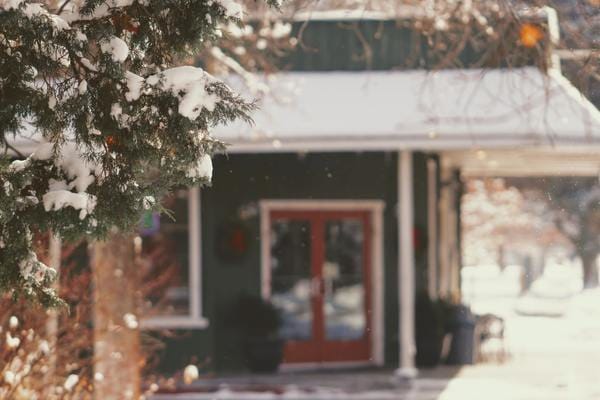 How To Prepare Outdoor Furniture For Cold Weather
With the change of seasons and falling leaves upon us, the winter season is undeniably just around the corner.  Cold winter weather can have a lasting effect on outdoor furniture if the items are not adequately seasoned over.  Many individuals choose to leave their outdoor furniture, such as their rocking chairs, in place, hoping for the best.  Although you can leave the items out, if the items become exposed to the weather's severity, it will only shorten the materials' life span.
It is not that difficult to prepare and protect your outdoor furniture from the effects that a harsh cold winter can have on them.  Gathered below are a few suggestions that will help keep your outdoor furniture in tip-top shape so that it may be enjoyed for many seasons to come.
Prepping The Outdoor Furniture
To properly prepare your outdoor furniture for the coming winter months, you will first need to give it a thorough cleaning before placing it in storage.  Those items constructed from materials such as wicker, plastic, or iron, will need to be cleaned using a solution of dish soap and water.  For those items built from wood, use a quality brand wood cleaner. 
Once the items are clean and completely dry if you plan to store the items on your porch or patio, cover the outdoor furniture pieces with a properly fitted, high-quality protective cover.  Ensure that you attempt to keep the furniture in an area where it will not be receiving the brunt of the winter weather.  If the items are constructed of those types of materials that do not react well to being stored outdoors, such as wicker items, make sure to keep them in a shed or garage.
Effective Storage
It is vital to keep in mind that no matter what type of material your outdoor furniture is constructed of—wood, metal, plastic, or wicker—and whether or not you choose to store it outside or indoors, it needs to be placed in a dry place; if outside adequately covered and safe from snow and winter weather.  It may take more than one season, but a surefire manner to destroy your outdoor furniture is to leave it out in the winter elements without proper protection and preparation.
Check for any possible leaks or entry points that may allow water or rodents to enter the storage area.
If there are glass items included with your outdoor furniture, wrap them in some form of material that will keep them from getting cold and shattering.
The application of a water-repellent finish will help protect the furniture from any possible moisture present in the storage space over the season.
Remove any signs of rust from metal furniture before placing it in storage.
With plastic furniture, you will need to repair all cracks—no matter how small—as they can grow in size during cold storage.
Remember, you get what you pay for—make sure that any protective covering for furniture stored outdoors is of high-quality construction.
Storing Furniture Outdoors
Several types of wood stand up well to being left out in the weather, such as teak.  However, if you want the teak to keep its original vibrant color, you will need to make sure to treat it with a sealant at least once a year.  Most wicker constructed of synthetic materials holds up well to being left outside all year long.  Any items built of metal, plastic, or rattan should be stored indoors in a dry area during the winter months, as these materials are highly susceptible to both rust and mold.
Outdoor covers for your furniture are always a fantastic option.  No matter what type of furniture you have, if you plan to leave it outdoors during the winter months, a high-quality protective cover can go a long way to keeping the items safe.  Not only will it keep snow and moisture from the furniture, but it will also aid in your furniture lasting longer and maintaining its color and overall appearance.
Hardwood Care
Here at Lehigh Country, we take great pride in how our rocking chairs are constructed, making them sturdy and guaranteed to last the test of time.  We go the extra mile in the crafting of our chairs, and as such, we recommend that our customers take the same measures.
To keep your hardwood, such as Teak, Acacia, and Eucalyptus, looking both new and fresh, we recommend that you keep a regular maintenance routine, as set out below.
Use natural linseed, teak, or Danish oil with a stain for application to the exposed surface area.
Before applying, ensure the surface area is clean, dry, and out of direct sunlight.
Using a soft cotton cloth, generously apply the oil while wiping away any excess.
Keep your furniture covered or stored indoors during the winter months.
You will need to repeat the above process approximately every 5-6 months, even more so during the Spring and Summer months.  Keep in mind that a little bit of maintenance will prove to go a long way in the end. 
Properly preparing your outdoor furniture and adequately protecting it can work towards your furniture pieces having a long lasting life.  With a routine maintenance schedule, you will be able to enjoy your outdoor furniture from season to season for years to come.